Interactive Soundart Projects
___Calling the Glacier________________________________Exhibitions
Ausstellungen, Konferenzen, Installationen etc.
Décimal Bienal Habana, Cuba 2009
Transdisciplinary dialogue between Cuba and The Alps: think locally, act globally
Not only the worldwide recession but also, most notably, the climate change is providing our planet with new challenges. In Cuba the global warming becomes tangible locally through the meteorological changes, provoking an increase of hurricanes in numbers as well as in force.
The future perspective - beginning today - needs to deal with embracing our growing knowledge. Which values need to be redefined, conserved or rediscovered? What needs to be changed regarding the limitations of our resources, the changing climate and the threats of globalization? How are innovations and new ideas implemented in today's economy? And what level of personal responsibility do we take for our local and international actions?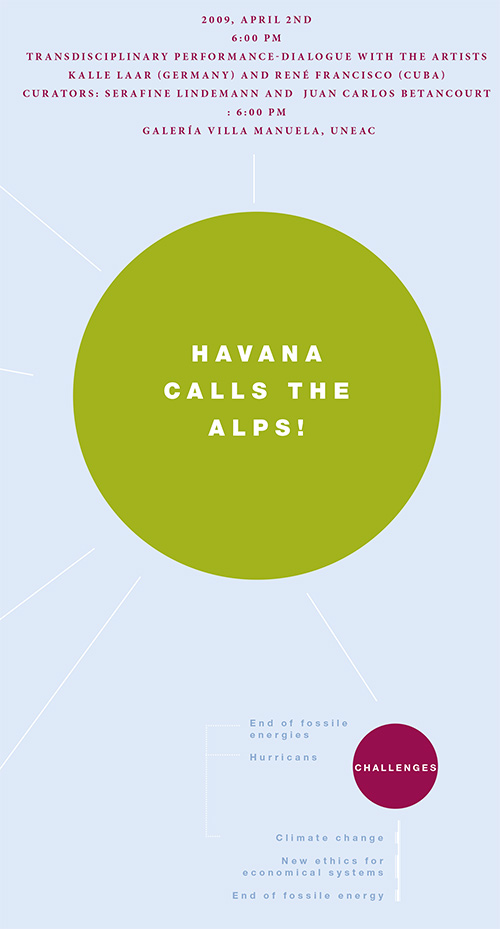 Panels and discussions with local participants took place at Cuba Energía, as well as lectures at the University. Individual presentations on questions about renewable eneregies, climate change and its impact on our societies were given as part of the Overtures 4 event at the UNEAC, the Cuban writer's and artist's union. A special excursion was made to explore Las Terrazas, the self-contained eco-community about 80km west of Habana.
At the heart of the discussion are the works »Agua Benita« by the cuban artist René Francisco, as well as »Calling the Glacier« and »Ethics Disco« by the german sound artist Kalle Laar ⇒ more